2012 First Presbyterian Art Show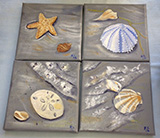 The 2012 First Presbyterian Art Show was held October 16th thru November 6th in the breezeway at the church. This year's exhibits featured the work of a talented group of painters who have studied under Donna Myers and other teachers for a number of years.
Donna Myers was certified as a Teacher of Decorative Arts (TDA) in 2009, and has been painting for 24 years and teaching for 20 years. In the beginning she attended classes with Jeanette Peace. Since then Donna has attended over 20 national teacher seminars. She first began teaching at Guilford Technical College and then began the First Presbyterian Art Class in 2003. Four of her original students, Pat Campbell, Kay Sudderth, Konnie Conrad and Ellen Watts, continue with her today.
The painters whose work was displayed, and a brief description of their painting background, are:
Kay Sudderth, Konnie Conrad and Ellen Watts have also painted with a variety of national teachers with the Triad Decorative Painters of North Carolina. They have also attended a number of seminars with David Jansen MDA, in Pennyslvania.
Pat Campbell began painting in high school. She and her husband, Howard, took two semesters of art in college. For a year Pat painted Rosemaling which is a type of painted or carved decoration in Scandinavian peasant style consisting of floral motifs. For two years she attended classes with Donna at Guilford College, and then switched to the First Presbyterian class in 2003.
Shari Downing has been painting for over five years and has studied with various teachers at Triad Decorative Painters. She is attending Donna's classes on a part-time basis.
Shirley Smith has been painting for three years with Jeanette Peace and for two years with Donna.
Jean Nitkin started painting in the 1970's at local colleges and the Senior Enrichment Center. She has been painting with Donna for five years and has also attended a seminar with David Jansen, MDA.
Faye Terray has painted for many years with Jeanette Peace and has been studying with Donna for one year.
Randall Ivey began attending painting class in April of 2012.
Pat Schriber, TDA, has been painting for over 20 years and has painted with local artists and a variety of national artists who have appeared at the Triad Decorative Painters. Pat has been attending Donna's class since July.
Photos of the exhibition, courtesy of Konnie Conrad, can be viewed in the photo gallery below.