Whatcha Got Cookin' by Ellen Watts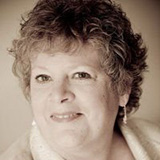 Several months ago Barb Hall gave me a breakfast recipe to use and I have lost it. I gathered my courage and told her I couldn't find it and asked for another copy, however, she no longer has a copy either but did share this recipe with me instead. If things work out as they usually do, I'll find the other one as soon as this one is published. If so, I'll share it, too. This sounds like a good one especially if having guests overnight or for a crowd on vacation. Thanks, Barb!
French Toast Casserole
1 Cup brown sugar
½ Cup (1 stick) butter
2 T. Dark corn syrup
2 large tart apples, peeled and thinly sliced
1 loaf French bread sliced in ¾ " slices
5 Eggs
1½ Cups milk
1 tsp. Vanilla
1 tsp. Cinnamon
Melt sugar, butter, and syrup over low heat till syrupy.

Pour in 9 X 13 casserole dish

Spread sliced apples over syrup mixture; use all apples

Lay bread on top of apples in single layer

Whisk together milk, eggs, cinnamon and vanilla, pour over bread
Refrigerate overnight. Bake at 350 degrees for 40 minutes, uncovered.
For a printable copy click on the name of the recipe listed below.
Meat, Fish and Casseroles
Vegetables
Salads
Soups, Bread & Salsa
Cakes, Cookies, Pies & Desserts
Recipes are in PDF format which require Adobe Reader to read.
If you do not have Adobe Reader it can be downloaded free by clicking on the icon below.