Whatcha Got Cookin' by Ellen Watts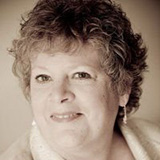 This recipe is from our niece, Deanna Butcher, who got the recipe from her aunt, my sister-in-law, Denise Gray. Her husband posted a picture of his plate one Sunday and this was on it. I thought it might be a recipe we would be interested in having, so here it is.
Poppy Seed Chicken
Denise Gray
4 boneless, skinless chicken breasts, parboiled
1 stick butter
1 can cream of chicken soup
8 oz. sour cream
1 ½ T. Poppy seeds
1 column of Ritz crackers
Cut chicken into strips and place in a casserole dish. Mix butter, soup, sour cream, and poppy seeds together and heat, then pour over chicken. Cover with 1 column of crushed Ritz crackers.
Bake at 350 degrees for 30 minutes. Very delicious and creamy. Good recipe to take for a covered dish dinner!
For a printable copy click on the name of the recipe listed below.
Meat, Fish and Casseroles
Vegetables
Salads
Soups, Bread & Salsa
Cakes, Cookies, Pies & Desserts
Recipes are in PDF format which require Adobe Reader to read.
If you do not have Adobe Reader it can be downloaded free by clicking on the icon below.