Whatcha Makin' Now by Dee Barham
May, 2017
Spring Flowers
Trusting you are enjoying our interesting Spring weather. Lately, you truly can wait 24 hours for a change if you don't like the current day's forecast.
April showers bring May flowers or so the saying goes. Being on Facebook can bring you ideas and in this case flowers for your garden or flower pots. You may find you already have what you need in your cabinets, or a visit to your local Goodwill, thrift or Dollar store. You will need some small glass dishes, (various sizes), silicone glue or E6000, sturdy wire stake. The website with pictures and instructions is http://bit.ly/2qhzVSs
May you find flowers blooming wherever you go this Spring and they bring you much joy as you see God's handwork on display.
---
March 2017
The Gift That You Can't Open
Do you ever find you are in need of a little something to take to a dear friend that is under the weather, someone having a tough time with life in general and you want a little something to let them know you care? Here is an idea that doesn't really cost anything but your time, a small box, pretty wrapping paper and ribbon.
I received my wrapped gift over 20 years ago. I keep it on a shelf in my bathroom, and when I happen to see it , it always brings a smile as I remember the dear friend that gave it to me and how much our friendship means to us both.
What you will need:
Small gift box or block of wood
Really pretty wrapping paper and ribbon
Tape, scissors
Piece of card stock
Pen or computer and printer
Putting it together.
On card stock print or write out the following:
This is a very special gift,
That you can never see.
The reason it's so special,
It's just for you from me!
Whenever you are lonely,
Or even feeling blue,
You only have to hold this gift,
And know I think of you!
You never can unwrap it.
Please leave the ribbon tied.
Just hold the box close to your heart,
It's filled with Love inside!
Now get your best wrapping skills and wrap your small box or block of wood with your prettiest paper, and tie a beautiful ribbon. Secure the poem, and give your gift.
Here is a picture of the one I received over 20 years ago and a new one I made to give to a neighbor who had recently had hip replacement and had been back to the hospital two more times with complications. I think she was pleased to receive this gift.
---
January 2017
Crochet or Knit Boot Cuffs
Happy New Year! I am always amazed how hard we all work to prepare for Christmas and then in a blink, it is over. I want to be one of those people that are so prepared, that during the holidays I can breathe and enjoy. Happens in small doses. Maybe this year I will prepare each month, so come November and December, I can relax and really enjoy the season. I will let you know in ten short months how that is working for me!
With that being said, our Holiday Market, in November, was my first experience to be a part of what all the talented people in our church worked so hard to put together. SO MUCH TALENT! It got me thinking (that could be dangerous), of researching and offering suggestions for projects that we as a group, groups or individually could start working on now and throughout the year, that would provide us with a plethora of different gifts to offer to our shoppers. I spoke with Kerry and the Mission Committee may be able to, in some cases, provide materials if we are willing to provide the loving hands of labor.
My first suggestion (and I will be the FIRST to admit, I CANNOT KNIT OR CROCHET, but LOVE receiving gifts of this nature), is Crocheted or Knitted Boot Cuffs. I have provided a couple of links for free patterns:
http://www.mooglyblog.com/free-crochet-boot-cuff-patterns/
http://www.simplynotable.com/2014/easy-knit-boot-cuffs/
https://www.craftsy.com/blog/2015/10/free-knitted-boot-cuffs/
I welcome your input on ideas that we could look to implement this year. I tend to make gifts I like to receive. Let's think out of the box, bring back tried and true, items for children to purchase, etc. We can organize craft sessions during the day and or evenings as specific craft ideas are presented and agreed on to make. Working consistently the next 10 months will provide us with a variety of products with different price points.
If you would be willing to offer your talent of knitting or crocheting for this project, please let me know and I will look to get materials to you, organize a night or day to get together. I will encourage you and even provide snacks! If you have left over yarn and want to find a new home for it, I will gladly be the recipient and get it in the hands of those with this talent.
Again, Happy New Year and may God richly bless you, your families, and our church, as we work together to spread God's word through our works. I look forward to hearing from you. Email barhamdelia57@gmail.com or home number 336-996-9969.
---
December 2016
Hymnal Angels
The holidays are upon us, and I am behind already! Today's craft is Hymnal Angels. I stumbled upon this idea about four years ago, when my Mom had her first heart attack. Our family was called in, we ask for prayers for God's will and we were blessed when she made a 360° overnight change. I made trips home every weekend that month, and one weekend my old roommate and best friend (Andra Burks) did the driving to give me a rest.
Mom mentioned our home Church was being sold, disbanded and did I want a Hymnal as a keep sake? I had been a member of all the choirs, so I thought it would be a nice keepsake. Not sure how the conversation came up, but as Andra and I were talking she mentioned Angel Hymnal and had I seen them? She thought it would be a really neat thing to do with the Hymnal, or Hymnals. Well, you gotta love the internet and searching the web, while someone drives you back home. I typed in Hymnal Angels, and low and behold — how to fold a book to make to make an Angel.
I decided I could do that and quickly called my Mom's best friend (Maxine) who I knew could get me connected to a supply of Hymn Books. My sister-in-law Phyllis, and I ended up making 15 Angels and gave them to the remaining members of our church as keepsake! I since try to personalize the heads of the Angels, to look something like the person that I am giving it to. Glasses, hair, no hair or facial hair for the guys, to favorite color for the Angels crochet doily. Hymnals became scarce, and I found other books work too.
So I hope you have fun making and personalizing your Hymnal Angel.
Materials:
Hymnal, devotional, cookbook, etc.
Round doll head – the size depends on the size of the book.
Crochet doily – typically white or beige, but I have used red (one recipient's favorite color)
Ribbon – you choose
Moss – cut fine for hair
Red, black paint and fine thin paint brush, (I have also found gel pins work and don't bleed in to the wood and easier to control.)
Glue gun and glue sticks
Gold, silver, white decorative cord for halo
Small charm – like, hope , heart, cross etc.
Instructions:
Figure 1
Figure 2

Figure 3
For a typical Church Hymnal
Count 50 pages from the front and mark. Count 50 pages from the back and mark. These pages will become the Angel wings.
To create the left wing, folding from front to back, fold each page from the bottom right corner back to the left center of the spine of the book. Crease the fold. This will form a triangle. Fold the front 50 pages this way. Try to keep the folds consistent and even. (Refer to Figure 1)
The next page will begin the Angel's dress/body. Bring the top right corner of the page back to left center of the spine. Crease the fold. On same page, fold up bottom right corner. Crease fold. (Refer to Figure 2) Continue folding until you reach the back 50 pages.
To create the right wing, folding from front to back, fold the bottom right corner toward the right center if the spine. Crease the fold. Fold the back 50 pages this way. This will form a triangle. Fold the front 50 pages this way. Try to keep the folds consistent and even. (Refer to Figure 3)
Take doll head and paint a face. I just do closed eyes and either a heart shape mouth or an oval shape to look like she is singing.
Glue doily on top of book, then glue the head on top of doily. Glue moss around head to look like hair.
Cut cord for halo and glue to back of doll head. I typically put some moss over the cord so it looks like the halo is suspended over the top of the head.
Tie ribbon around neck.
Add the charm. (Optional)
There you go! You will always have an Angel singing around your home!
Merry Christmas and a Happy New Year to each and every one!
I hope blessings will over flow your cup each and every day!
In Christian Love,
Dee
---
November 2016
Candle Holders
The calendar is showing that Thanksgiving is three Thursdays away and only eight more Fridays before Christmas! That just can't be right! I have way too many 'things' on my 'to do list!' and shopping for the holidays is way down at the bottom, as well as decorating!!! Cleaning is at the top, but making things is pushing that out of the way.
Should you find yourselves in a similar dilemma, maybe this month's craft idea will be for you. If you have been fall cleaning and have some old vases, don't toss them yet. Here is one way to recycle to make new and just maybe they would work for a gift or two, or work into your holiday decorating theme. You can clean out and cross some names off a list, or re-energize your decorating ideas. It's what I hope to do.
Last year and this year I looked for ways to recycle and make new with glass vases, candy dishes, relish dishes, candle holders, hurricane globes, etc. Today I used the small round vases, that look like tiny fish bowls, larger vases, and hurricane globes. If you don't have any, I found that Goodwill and Next Step Ministry have a variety of glassware for really good prices. Personally, I don't spend over $2.00, unless it is a very special piece. (Shannon Irish Crystal candy dish for $3.00, never used, thought that was a good deal!)
The following is what I did to make holiday candle holders.
Materials to make Santa's body and Snowman Faces.
Various glass piece
Fine Glitter -red, silver, black, white,
Mop and glow or any floor liquid floor wax
Containers – one for each color glitter
Glass jar to pour excess liquid back in
Black ribbon- gold ribbon.
Black, white, orange acrylic paint, paint brushes,
Vinyl letters, ribbon, raffia, buttons, vinyl for eyes, mouth and nose,hats, etc. (Dollar Tree has some great ornaments that can be used to dress your selections.)
Rubber gloves
Hot glue gun and glue sticks
How to assemble your glass ware.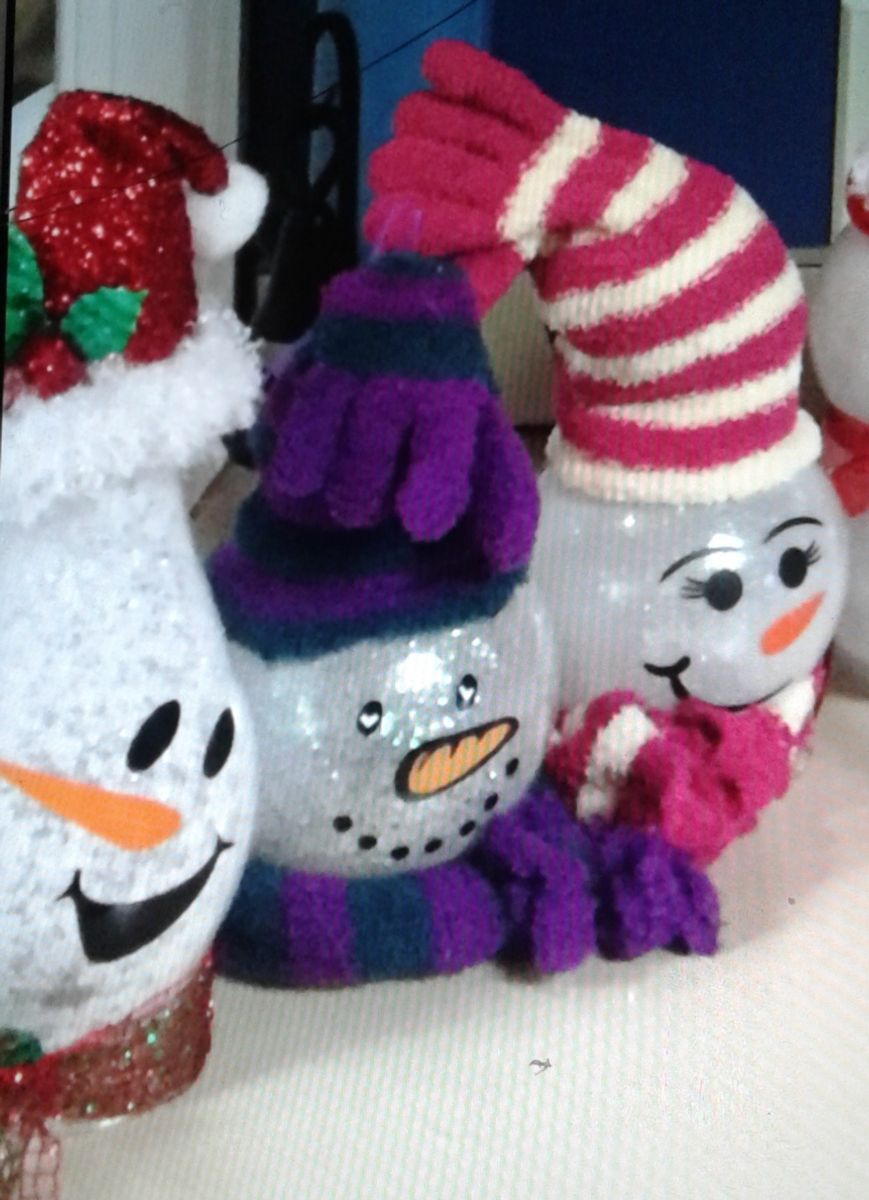 Make sure you have washed all your pieces and they are completely dry.
Pour floor wax into your first glass container.
Swirl the liquid around to coat the entire inside of the glass.
Pour excess into a glass jar.
Let dry a few minutes.
Decide what you are making and pour the desired color of glitter into the glass piece and working quickly cover the entire inside of the glass piece by rolling the glitter around the inside the glass piece.
Once the inside is covered, pour out the excess into another container.
Now paint the outside of the container
When the outside of the container is dry, use vinyl stickers, buttons, ribbon, etc. to put the Snowmen faces. For Santa's black belt I used a piece of ribbon, cut a buckle out of gold and hot glued in to place. Vinyl letters were used to write Ho, Ho, Ho.
Now get busy…time is flying by!
Join me next month to see how Hymn Book Angels are made.
---
October 2016
Magnolia Angels
Recently when talking with my sister-in-law, Phyllis, we discussed that there really aren't too many new ideas. Just our individual spin on something that has caught our eye. Sometimes we make it better, sometimes we don't.
Many years ago a friend gave me an Okra Angel and from that I made Magnolia Angels. I will give you the basics and you can then add your personal spin on them.
Materials
Magnolia pods.
Black acrylic paint
Gold, silver and white spray paint. (Glitter paint ok)
Red acrylic paint
1 1/4 " round wooden doll head.
Pencil thin paintbrush
Hot glue gun with glue sticks.
Gold or silver thin cord
Decorative cording, for Halo
Spanish moss
1" gold, silver, or white wire ribbon.
Rubber gloves
Sharp knife or scissors
Instructions
Collect Magnolia pods in late fall. Sounds silly to say, but I found out there aren't any on the ground right now! Have to wait till they drop. Depending on when you get them you may need to rinse the dirt off and then dry slowly in an oven. Use the lowest temperature to kill off any bugs and to dry them thoroughly.
Spray paint the pod. I have done this two ways. Painted white first, then with rubber gloves on, I spray either silver or gold into my hand and grasp the pod to lightly add touches of the silver or gold on the outer edges. Or you can just spray the pod with one color only. For mine, I sprayed with gold glitter paint. Let dry.
Paint a face on the head. As you will see, I paint closed eyes and heart shaped mouth. Paint the face first, 'cause, if you mess up you have 3 more tries to get it right.
Cut the stem of the pod. Hot glue the head to the top of the pod.
Cut up the moss into smaller pieces. This will be used for the hair. Cover the head in small sections with hot glue and put the moss on the head. Be Very Careful. I have burned my fingers often when pressing the moss onto the glue on the head.
Cut a piece of the slim gold/silver cord approximately 8-9" long. Tie a knot in the end to make a circle. Hot glue to the back of the pod just below where the head sits on top of the pod. This is how the Angel will hang.
Cut a 3" Decorative cord. Form a circle and place on the back of the head tilting it up to look like a halo. Hot glue in place and cover where it joins with small amount of moss.
Tie a bow to be used as the wings and hot glue just below the base of the head.
Here is a picture of my version of a Magnolia Angel.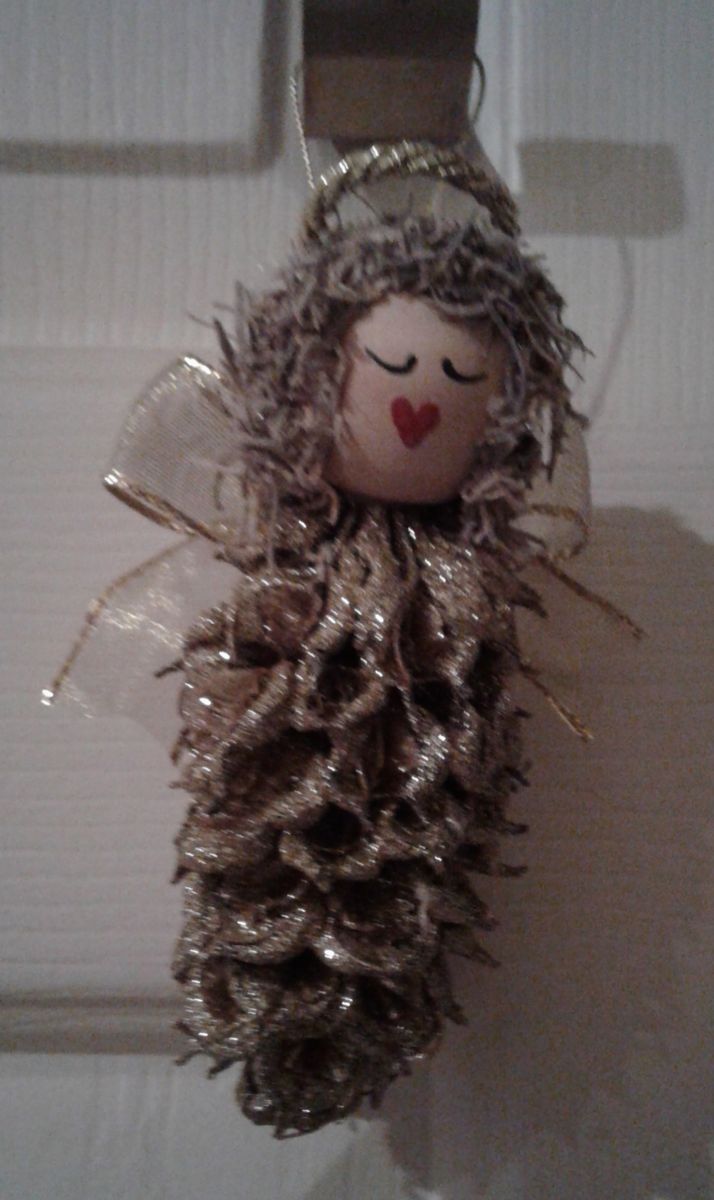 Have fun and have a great month. Haven't heard from anyone who has a craft to share…..please contact me -- 336-996-9969 or barhamdelia57@gmail.com.
---
September 2016
I am honored to have been asked to head our column hosting craft ideas. I know there are many others far more talented than I when it comes to crafting.
I thought my first crafting experience was when I learned to crochet, but as my memory kicked in, I believe it really started in grade school making cards for my Mom and Dad and ultimately using the metal loom and cotton loops to weave potholders.
One Christmas I received my own loom and a bag of cotton loops! I knew everyone would want a potholder made by my own hands! Crafting was born out of a poor purse, with intentions filled with love.
I have come to have a deep appreciation for handmade gifts, where I know someone took great time, patience, love and care to craft an item 'just right.' Needless to say not all my crafts come out 'just right', but my time, (not always my patience), my love and care, I would pour into them.
It, therefore, seems fitting that the first craft idea is an item I found at the Kernersville Arts and Craft Guild last Christmas --
Microwave Bowl Potholders. I thought 'what a neat and useful idea.' You place the bowl on the potholder before putting it in the microwave to heat. No more burned fingers taking a hot bowl out of the microwave.
I purchased one for myself and several as gifts. One recipient was my sister-in-law, who saw it as a neat gift to make, so I searched on the Internet for instructions. I found a number but the best one was for "Microwave Bowl Holder". For step by step instructions on how to make it click on the following: http://patriciaburrows.tumblr.com/bowlholder
It must be made with all cotton fabric, batting and thread, lest it catch on fire when heated in the microwave. You will see you can make different sizes and you can color coordinate your fabrics. I hope you will like them as much as I have mine
I know there are many folks in the congregation who have a gifted talent of crafting and I hope you will be forthcoming in wanting to share your God given talent with us. I will be seeking your help, as we share our crafts with each other every month.
Please feel free to contact me at: barhamdelia57@gmail.com or call 336-996-9969. I am looking forward to seeing the talents of First Presbyterian Church.
Next Month -- Magnolia Angel Ornaments